ROBOMAN Qualified Installer
Initial contact
---
At roboman.nz, we offer highly personalized service from the very first contact. Here is a brief rundown of what you can expect from us when you enquire about purchasing a robotic lawnmower. In our first discussion, usually over the phone, we will establish your current situation. We need to know how big your garden is, how complex the layout and whether or not there are any steep slopes or obstacles. We will ask you what you currently use to cut your grass and what problems you face with that method. We are also interested to know whether you have seen any models that you like and why you think these will be suited to you. We will discuss your budget and needs then agree on the most convenient way to get to know you and your garden.
---
DIY or Consultation with installer
---
Our personalized consultation can take anywhere from 30 minutes to 1 hour. We encourage all members of the household to be present if possible so that we can understand your specific needs and everyone can ask questions. We need to understand the practicality of the garden i.e. size (sq. meters), complexity, ground gradient, access issues, outside power supply and any restrictions i.e. islands, flower beds, hedges, patios, how many different areas of lawn. Don't worry if you don't have all of this information to hand, we will assess all of this ourselves. We will also take photos and measurements of all areas of the garden, and make detailed notes on any areas of special consideration. At the end of all consultations, we will usually discuss the models of robotic mowers that are best suited to your garden and your needs. We will also answer any questions you might have.
---
Quotation
---
After the consultation we will prepare a formal quotation, detailing our recommendation, including the cost of installation and the time it will take to install. You will usually receive this within 48 hours and we can send it to you by post, email or both, whatever is best for you.
---
Installation of your Robotic Lawn Mower
---
We understand that purchasing a robotic lawn mower is a big financial commitment, therefore it is essential to get installation right or your mower cannot do its job properly and could result in costly mistakes. All robotic mowers work by reading a signal sent around a wire which is installed around the perimeter of your garden.
You can set up your lawn mower yourself, but this can be time consuming, depending on the size and complexity of your garden and where your outdoor power supply (if any) is placed. You also must leave the wire to "bed in" for up to a month before you can use your robotic lawn mower, otherwise the perimeter wire may be accidentally cut, leaving your mower useless.
We offer a complete installation and setup service, giving you peace of mind that your mower has been installed correctly and safely, and will be left ready to use immediately. All you need to do is be there to provide access to your garden, then sit back and relax while we do all the hard work.
We use the most advanced perimeter cable laying machine in Europe to ensure that you don't have to wait up to a month for the grass to grow and the wire to bed in, you can start watching your mower in action from the moment we leave your garden.
Once installed, we do a complete check of the site to ensure that the wire has been correctly placed within the specific measurements, and to all borders and obstacles. We will then install the base station, and connect the perimeter wire and power source. This is where the robot lawn mower will live and return to automatically every time it needs charging or is not in use.
After this your mower needs to be programmed. We will set it up so that is recognises your garden, and perform a series of tests to ensure that your robot is moving around your garden accurately and returning to its base station to dock and charge. We then allow the mower to roam around your garden for 15 minutes, ensuring that it is reaching all boundaries and the motor and blades are performing as they should.
When we are entirely satisfied that your robot is running correctly we will talk you through setup and scheduling options, and any advanced features that are available with your chosen model. We will also discuss the dos and don'ts of robotic lawn mower ownership, as well as our aftercare service, to ensure that you and your mower live happily ever after.
---
Service and Maintenace
---
As qualified dealers, we are able to provide a complete aftersales service for your robotic lawnmower.
In order to keep your mower in optimum condition and providing you with years of dedicated mowing, it is important to have it serviced every 12 months and with only genuine parts.
A mower has to do a lot of hard work, and some parts need to be replaced (for example the blades) to ensure that the product continues to give you the perfect cut. During servicing we also check the entire mower, motors, wheels, cutting blades and electrics and replace any parts which are needed. We will also do give it the latest manufacturers' software update, please note this can only be done by an authorized dealer.
We have many years' experience in servicing robotic mowers and can provide a hassle-free way of keeping it in perfect condition with regular servicing. Please contact us now to discuss mower servicing.
If you are qualified to repair your mower yourself, we also stock genuine parts for you to order from us. Please contact us for more details.
---
Warranty and Repairs
---
With our experience and dedication to providing the highest levels of customer service, you can rest assured that our commitment to you does not end the second the product has been delivered.
As a qualified dealer, we are experienced in all matters related to your robotic lawn mower and are always on hand to help you. Roboman covers all warranty claims and repairs on behalf of the manufacturer Exgain.
We are dedicated to ensuring that your mower always provides you with the level of service you expect. Please don't hesitate to contact us if you have a problem with your mower so that we can help you.
We will establish whether the issue falls under warranty, and if it does we will arrange a collection of the mower and repair it ourselves. We only use genuine parts and all warranty claims are dealt with us personally. We do not sub-contract repairs, and we do not have a call center. Roboman offers a 1-year warranty period from the date of purchase. It is also worth noting what parts are covered under warranty, for example, blades are not because these are considered wear and tear.
We also provide repairs outside of warranty, again using only genuine parts and with our trademark personal service.
For all repairs, we will attempt to collect and return all robotic lawn mowers personally.
If you have a problem with your robotic lawn mower, please contact a member of the Dealer Network.
---
---
DIY Installation
DIY not for everyone but is as easy as 1-2-3
---
Read your Manual, get to know your parts and components. Read Safety instructions more than once. Please keep your Box at some stage your mower needs a Service! New Battery, or unforeseen damage to the mower? There are instructions you have to follow to the letter. If you are not sure about something get in touch with ROBOMAN Helpdesk. 02825577160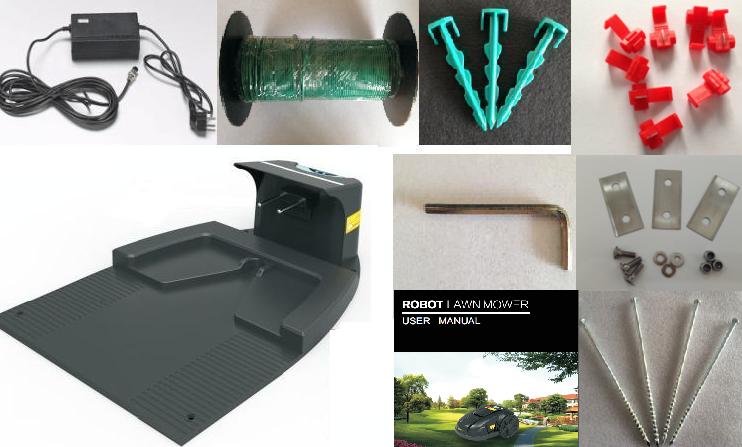 ---
Place Charging Station
---
1 Make sure it is on flat ground(we like to place on pavers)
1.1 the 2m in front have to be level on both axels
2 no magnetic interference
3 no flood risk or near water puddle
4 no obstacles in front
5 2m straight run to the station
6 powerpoint close by
7 room for rain cover
8 ideal in a corner
use felt carpet 600mm by 1200mm as a base under charging-station There are instructions you have to follow to the letter. If you are not sure about something get in touch with ROBOMAN Helpdesk. 02825577160 or simply watch https://youtu.be/WGC2CaoVfFY
---
Virtual Wire Installation
---
Is this is your first install of a Robotic Lawn Mower?
if yes install your wire on top of the grass.
1 cut lawn as low as possible.
2 secure wire every 1m with peg
3 follow rules
3.1 40cm from the edge
3.2 for islands not more than 1cm apart
3.3 make a template for corners
3.4 connect wires to charging station
3.5 connect power-supply to the charging station (make sure everything is protected from the elements)
4.make sure your perimeter wire install has the following points covert.
4.1 all holes, obstacles are taken care of.
4.2 there are no corners with less than 90˚
4.3 radius of 20 cm is ideal around every corner
4.4 minimum with is 2m There are instructions you have to follow to the letter. If you are not sure about something get in touch with ROBOMAN Helpdesk. 02825577160
---
Test Virtual Wire
---
Make sure your Mower is fully charged.
check if your mower does edge mowing, this is the ultimate test to see if the mower is not to close to wall/fence/driveway .....
set zone one at the very end and test if mower can get around anticlockwise. There are instructions you have to follow to the letter. If you are not sure about something get in touch with ROBOMAN Helpdesk. 02825577160
---
---